12/01/2018
What's in my bag (First posted on JCH 12th Dec 2016)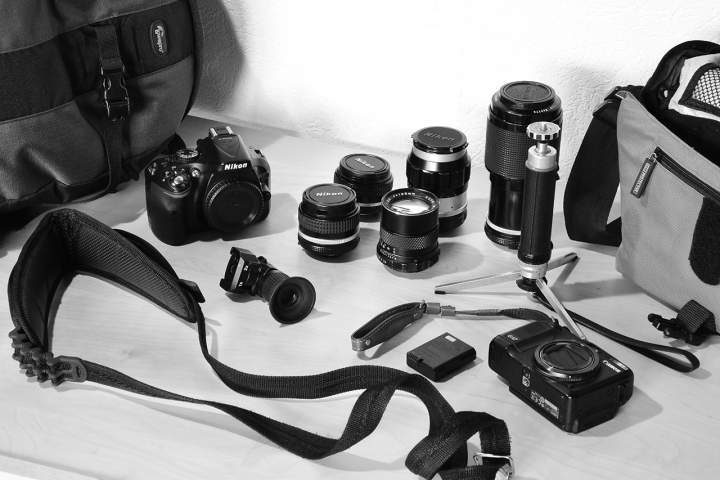 I use digital as if it were manual analogue, so my setup is perhaps a little strange considering many people at JCH seem to be very into film. I use the Nikon D5200, together with Nikkor AIS lenses. I started this round of camera with the D5200 and the 18-105mm kit lens. The images were rubbish, wishy-washy, over exposed even with spot-metering, the results were just depressing and I thought it was me!
I decided to get a 28mm f.3.5 AIS lens which I had always intended to do, but only for landscape because I thought that the entire manual exposure and focus would just be too slow for anything else. I got this lens and did garden flowers as a test. All the feeling of being in control, like the old days, was back and the images were sharp and had beautiful bokeh (Bokeh is subjective I know, but I like it) – Yeehaw, I was back in the game again.
I realised that old glass would make me work more but I also realised that actually that is what I wanted, together with the highest quality image that I could afford; the kit lens was duly relegated to gathering dust and is not going back on the camera (except for this "kit" picture with the wife's camera).
Since this eureka moment, I have also acquired the 50mm AIS f1.8, the 80-200mm f4.5 and a Nikkor-Q 135mm f 3.5 nonAI converted. Because of the crop factor of 1.5 times, the 28mm has the effect of 42mm. This is not enough for what I need with the original landscape requirement so I am currently looking for a 20, which would therefore be 30mm with the crop factor calculated in. This is the next thing.
Obviously I already have most of my lenses now, but a 20mm AIS could be interesting if the price is affordable (over to you Bellamy!). I still dream of the 58mm f1.2 Noct and similar beauties but they are another matter, when of course I have badgered the wife to agree… Perhaps 10 years from now when I'm deaf, I can get away with understanding: "No means Yes…"!
This setup however introduces several problems.
Firstly, manual lenses on a D5200 are a bit of a joke from a focusing perspective. The eyes must be good to stand a chance as there is no assistance from a "split screen" or other optical focus help. There is a "green dot", but it is questionable as to if it works, I seem to get better results by eye than by dot. (Trial and error, lots of practice, and good eyes – see Jena below!)
Next, the coverage of the view finder is less than 100% which creates some problems with framing, composition and focus. (I tend now to work with both eyes open, especially with street. This is my human version of range finder optics. Easier in portrait, than landscape! Lens is in-line with the eyes in portrait.)
Also a big point is that the in-camera light-metering does not work with this combination of camera and lenses. I am the light meter and in most cases I can judge ISO, Shutter and Aperture close enough or adjust a bit to get what I want. Digital makes the correction possible; with "Chimp-ing" of course.
Finally one needs to be able to use MANUAL exposure, nothing else works! – But the majority of the audience here, have that one already "in their bag" – so to speak!
The Benefits With This Setup
The optical qualities of older glass from Nikon & Mamiya (I can't judge other than Nikon and Mamiya) are very different in their rendering of light to the sensor. The Mamiya lenses create a warm colour rich image and unique "lined" bokeh, whilst the Nikon is well-balanced for colour and the bokeh is creamy. Photographing in B&W, as I do the most, the Nikon AIS lenses I use are magic (subjective, but what the hell).
Having an aperture ring and having an engineered focus ring that is calibrated to infinity, rather than going too far, means that using the camera is easy and not "finger origami". Infinity focus that is certain is also excellent for astro and low light.
The lenses both in size and battery consumption (zero Watts, only calories) are excellent compared to modern lenses. So not only am I not carrying a silly heavy motor system in a piece of overpriced plastic, but the battery lasts longer too.
The price for good glass is affordable. I was lucky as the D3300 (€149) I bought second-hand for my wife, together with the 50mm f 1.8 (€99) means that for €250 + SD-card, one can have a very useable manual digital setup with good glass. On condition you get good glass.
This may not be the case for you, but this setup is ergonomic for my weird style and expectations of photography. It balances my need for good glass, total control and more often than not an expenditure that the wife will tolerate.
What would I have done differently with hindsight?
Firstly, I would have bought the D7100. It lacks the anti-aliasing filter that the D5200 has. I think it also has the ability to meter the older lenses and I think the focus dot has arrows to show which direction to go.
Secondly, I would not have wasted my money on a kit lens. Indeed I would not waste my money on any automated plastic lens anymore.
Thirdly, I think I would have asked Bellamy to at least quote on sourcing the range I wanted in one go, as I have bought some lenses second-hand (at least 2) that were junk and a waste of money. Ok so I learnt the hard way!
What am I getting now/next?
Reading glasses, they came a few weeks ago. – On our holidays this year we stopped over in Jena, Germany. Carl-Zeiss country… We went to the Zeiss optical museum and whilst waiting for the wife, she reads slowly, I played with the eye test exhibit for kids, only to find I now need reading glasses – just considered this might amuse you all!
Ok, well aside the 20mm and 24/7 dreaming of the "Noct", I am going to follow on from my long standing tradition of stealing everything from my father.
He has a Lumix G3 with some zoom lenses that I will probably adopt for youtube video work in the studio and perhaps have a go at long distance wildlife in Bavaria (Buzzards, Deer, "Dirndl'l Girls" and such like), and he also has (soon to be "had") a Mamiya RB67 with two fixed lenses. So damn you "JCH-People" you seem to have infected me with the film bug too… Not sure I'll manage loading a film as it looks bl**dy complicated, and I'll need to understand a light meter.
Samples of pictures with this setup can be seen in the article "Why I appreciate film photographers…".
All the best to you all, and if anyone has a Nikon DSLR and finds what I am doing of interest but has concerns or questions please feel free to ask and I'll do my best to answer. And if you want to get lenses talk to Bellamy, it is his job after all!
Kit List:
Bag: Rucksack Lowepro Flipside 400AW or Nikon (don't know which bought it second hand for €5)
Nikon DSLR D5200
Nikkor 28mm f 3.5 (AIS)
Nikkor 50mm f 1.8 (AIS)
Nikkor 80-200mm f 4.5 (AIS)
Nikkor-Q 135mm f 4.5 (Non AI Converted)
Mamiya 105mm f 2.8 (with m42 converter)
DR-6 right angle eyepiece (great for architecture, street and flowers!) Canon G12 (10mp)
Sunsnapper shoulder strap
Various Filters, incl Pol.
Very old table tripod